PAIRI DAIZA RESORT - BELGIUM
Ever want to wake up to a Walrus?
At the Pairi Daiza Resort, visitors can do just that. Named the Best Zoo in Europe by the Diamond Themepark Awards for the last three years (2018-2020), the resort is located about an hour's drive from Brussels in Brugelette.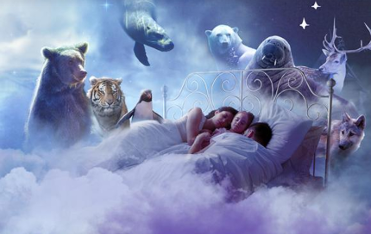 Sleep Next to a Walrus in This Underwater Hotel Room in Belgium
You'll never want to leave this suite.
Pairi Daiza Resort
A unique and comfortable stay in Belgium is easy to find — as long as you don't mind some very special neighbors.
Pairi Daiza Resort at the Pairi Daiza Zoo in Brugelette, Belgium, has an incredible stay for animal-loving travelers. The resort has over 100 rooms with personal views into theanimal habitats, including a room that looks right into a walrustank.
Pairi Daiza Resort
Pairi Daiza Resort
The Walrus House lets you enjoy all the typical perks of a comfortable hotel room with the added benefit of being able to get up-close-and-personal with the walruses at The Land of the Cold habitat at the zoo. These sea creatures can peek into your room through a glass wall that separates the tank and the room. It may not be super private, but at least you can make friends with some very interesting "roommates."
In addition, Pairi Daiza Resort has over 100 rooms located within 10 different lodges with views of other animals in the zoo as well, including wolves, bears, sea lions, fallow deer, penguins, Siberian tigers,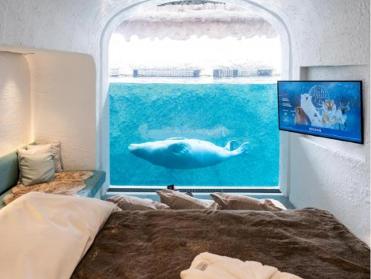 Description of the accommodation
With their glistening white walls and ice motifs, these rooms allow you to fulfil the dream of sleeping in a snow cave – while staying warm and snug. The rooms have amazing views of the walruses' underwater world.
The blues, whites and greys of the materials and fabrics give your room an icy look, while their quality and softness ensure there's no compromise on comfort.
You'll also love the beautiful bedside tables and desk top in genuine white onyx. Additional warmth is provided by the golden hues of the brass used in the light fittings.
The bathroom also immerses you in a wintry world with its white walls and ice motifs. The gilded brass fittings add a touch of elegance and luxury.
Attention: if, due to the security measures imposed in the fight against the Covid-19 epidemic, we are not allowed to open our restaurants during your stay in Pairi Daiza, your meals (breakfast and dinner) will be brought to your accommodation by our teams.
Services and facilities
Facilities
Room with 1 double bed (possible to split in twin beds), 1 sofa bed and 1 bed for a child under 12 years old

Anti-allergic mattresses "Made in Belgium" offering optimal comfort thanks to their 7 ergonomic zones

Smart TV

Bathroom with italian shower

Separate WC

Room overlooking the territory of walruses
Services included
Access to the Park, from the day of arrival to the day of departure (from 9am)

Handling of your luggage upon arrival and at departure

Free reserved parking for Resort residents

Free WIFI during your entire stay

Board games available (on request at the hotel reception)

Access to the worlds of the Resort, also outside the opening hours of Pairi Daiza
Breakfast for the whole family

Evening meal (mineral water included)

Free non-alcoholic drinks in your room

Welcome tray in your room (tea and coffee)

Welcome gift in your accommodation