WHERE IS ATLANTIS THE ROYAL HOTEL IN DUBAI?

CHECK OUT THE REVIEW VIDEO ON HOW THE ATLANTIS PALM LOOKS INSIDE
LOCATION:
Dubai, United Arab Emirates
This is the ultimate fantasy style vacation hotel. It features indoor aquariums, underwater hotel suites and so much more.

THE EPITOME OF LUXURY
Soaring 43 storeys high, our Rooms, Suites and Signature Penthouses are your home away from home with stunning views that steal your breath away. The illuminating materials and hand sculpted textures in each room exude an effortlessly stylish and contemporary design. With endless connecting options including privatising entire floors, you'll find the perfect combination of Suites and Rooms at Atlantis The Royal.

Rooms feature bespoke amenities exclusively crafted for Atlantis The Royal by Graff and Frette, as well as hand-stitched mattresses by Hypnos. Expect luxurious walk-in wardrobes and dressing rooms, walk-in showers and stand-alone bathtubs coupled with unmatched personalised service.

A stay at Atlantis The Royal is unlike anything you've ever imagined. This is what holiday dreams are made of.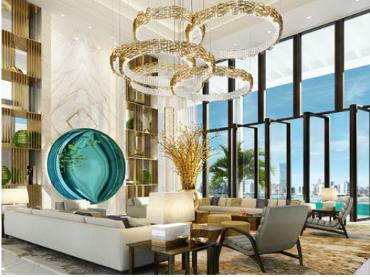 THIS IS THE MOST ULTRA-LUXURY EXPERIENTIAL RESORT IN THE WORLD
The new iconic landmark of Dubai, Atlantis The Royal welcomes you to an experience that will completely redefine your perspective of luxury. Crafted by the world's leading designers, architects and artists, this is a destination where everything has been designed to challenge the boundaries of imagination.